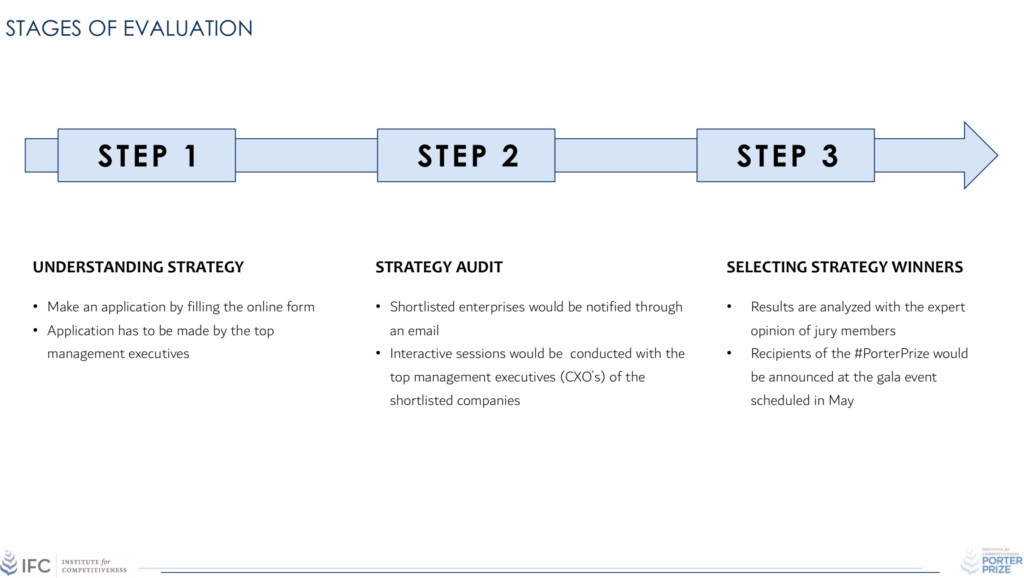 Stages
Porter Prize application, evaluation and selection process consists of three stages
Stage 1: Understanding Strategy
Applicants who are willing to participate in the Porter Prize are requested to make an online application. The companies applying for the prize should fulfill the eligibility criteria and apply in appropriate categories. The preliminary assessment form has to be filled by the top management executives. Incomplete applications will not be processed.
Stage 2: Strategy Audit
Participants shortlisted for stage 2 will be notified via an email. Another detailed form would be sent to the participating companies (irrespective of whether the companies have been shortlisted for stage 2 or not, as bench marking report will be provided to all the participating companies). However to understand the company further and get some deep insights on the companies operations, products and services, existing strategy and performance etc. interactive sessions would be conducted with the company's top management executives (CXO's). The session will be of maximum 2 hours and will be conducted within 2 months from the date of declaration of stage 1 results. Therefore the companies would be requested to provide the required time from their schedule. Furthermore the company will be assessed on the assigned framework and other related parameters.
Stage 3: Selecting Strategy Winners
Participants will be thoroughly analyzed on vital parameters by integrating all the information gathered through the company's sources. The jury members will scrutinize the calculated results and give their expert opinion to come up with the name of winners for Porter Prize. The Jury members will adjudicate the companies who do exceptionally well in their respective category.
Confidentiality
The information provided by participating companies and their business units for Porter Prize will not be used for any other purposes except for evaluation. In addition, specific company names and related information will not be made public without the prior consent of the company or business unit official's.